Basketball Team-Themed Retro Sneakers : hornets colorway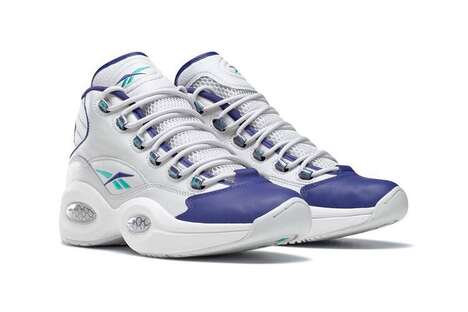 Sportswear giant Reebok introduces the new Hornets colorway to celebrate the NBA team and it can be seen detailing the signature Question Mid Dunk sneaker model. It blends together hues of Cold Grey with Bold Purple and Classic Team, honoring the Charlotte Hornets.
It is a team that Allen Iverson is known for playing on during his career, who is a collaborative force on the new shoe. To highlight the construction, the shoe is made from a blend of smooth and tumbled leather materials and paired together with touches of mesh to add some breathable elements as well. It is adorned with Bold Purple and Classic Teal speckling on the top of the grey base foundation.
Image Credit: Reebok