Basketball Player-Backed Sneakers : kyrie irving 1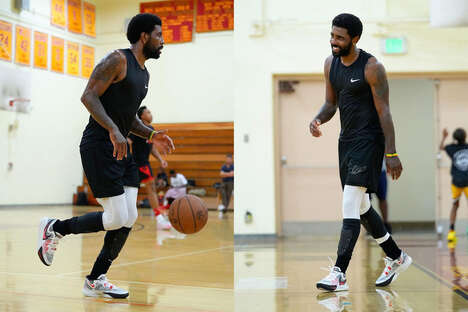 Kyrie Irving recently teased his upcoming Nike silhouette at Fairfax High School in Los Angeles alongside names like Trae Yong, Cole Anthony, and Scottie Barnes. The players gathered at the school for a series of basketball scrimmages between different NBA teams, and the audience quickly spotted the new iteration of the sneaker on the player's feet during the game.
The design boasts a mid-top structure with translucent mesh uppers that are outfitted with red and white accents. The sneaker also utilizes a Zoom Air sole unit for additional cushioning, while a quote from Irving's mother graces the interiors. Extra details include roman numerals 'VII XIII' embroidered on the heel in honor of the birthday of Irving's mother.
The upcoming Kyrie 9 silhouette is slated for a November 11 release.
Image Credit: Moving Pictures